---
---
In January 2023, I took part in the workshop Towards A Minor Tech where a group of international PhD students joined in London to share and discuss research on what a minor technology could look like.
As part of the workshop, we presented and discussed essays exploring aspects of what that could be. The essays then got condensed in a 500 word format and are published in a peer-reviewed-newspaper that will be distributed at Transmediale.
As part of my contribution I argue that despite the insistence on the small and non-scalable is important, scalability remains crucial for alternative digital infrastructures, if they ever want to become counter powers to the technological status quo. This idea I derived from the recent experience of Musk purchasing Twitter and many looking for alternatives as a consequence. At that moment, the fediverse was able to scale enough (in various ways) for many people to actually consider a wholly different model of digital infrastructure. Had the fediverse not been scalable, that would not have happened. I will develop the details of that in my contribution to the ARPJA journal.
You can find the PDF for Towards A Minor Tech here and here.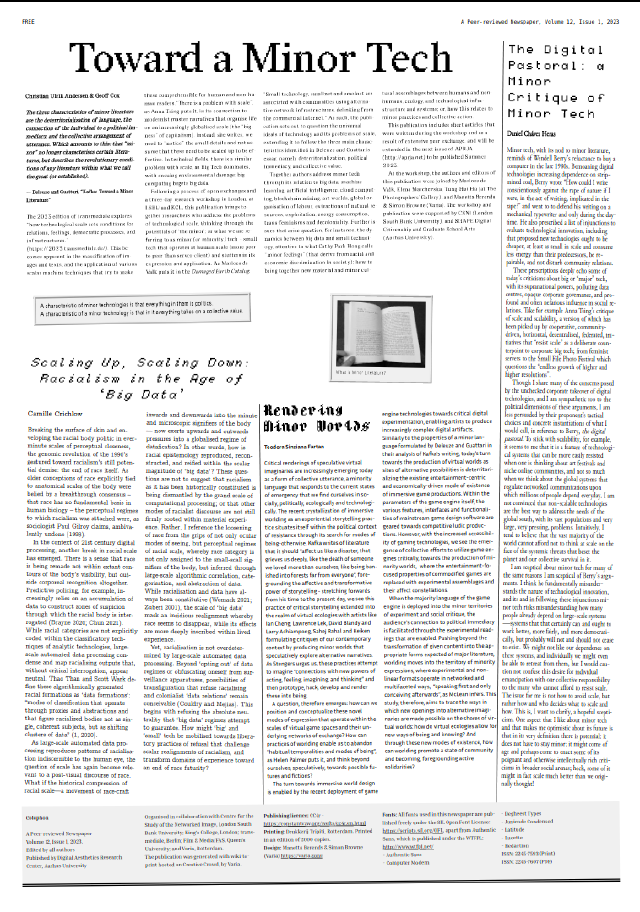 Following a process of open exchanges and a three-day research workshop in London, at London South Bank University and King's College, London, this publication brings together researchers who address the problems of technological scale, thinking through the potentials of 'the minor'; or what we are referring to as minor (or minority) tech – small tech that operates at human scale (more peer to peer than server-client) and stutters in its expression and application. As Marloes de Valk puts it in the Damaged Earth Catalog: "Small technology, smallnet and smolnet are associated with communities using alternative network infrastructures, delinking from the commercial Internet." As such, the publication sets out to question the universal ideals of technology and its problems of scale, extending it to follow the three main characteristics identified in Deleuze and Guattari's essay (Toward a Minor Literature), namely deterritorialization, political immediacy, and collective value.

Edited by Christian Ulrik Andersen, Geoff Cox, Camille Crichlow, Mateus Domingos, Feminist Servers (mara karagianni & nate wessalowski), Teodora Sinziana Fartan, Susanne Förster, Inte Gloerich, Daniel Chávez Heras, Macon Holt, Jung-Ah Kim, Edoardo Lomi, Inga Luchs, Gabriel Menotti, Alasdair Milne, Anna Mladentseva, Shusha Niederberger, Søren Bro Pold, Roel Roscam Abbing, Winnie Soon, Magdalena Tyżlik-Carver, Varia, Jack Wilson, xenodata co-operative (Yasemin Keskintepe & Alexandra (Sasha) Anikina), Sandy Di Yu, Freja Kir

Design & Production: Manetta Berends and Simon Browne (Varia)

ISSN (Print): 2245-7593

ISSN (PDF): 2245-7607