---
---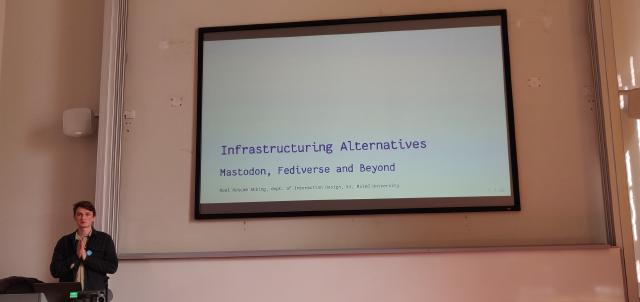 Jonathan Gray invited me to present my PhD work and facilitate a workshop called "Infrastructuring alternatives: Mastodon, the Fediverse and beyond". The idea for the workshop came after discussing the attention for Mastodon following the acquisition of Twitter by Musk and, more specifically, the question of how academic research could support the fediverse. The event brought together researchers and practitioners to map out these issues and establish a network. I introduced the fediverse in a presentation, and then we had an afternoon of conversations to map out the different possibilies and connect various scholars and practitioners interested in the topic.
Some observations from that roundtable I found interesting:
There was recognition by people studying or involved in earlier "moments" of free / libre open-source culture that Mastodon re-opened the possibilities or at least conversations for rethinking digital infrastructure more broadly
People noted the slight loosening of the platform as ideological-technical-economic-computational model (at least for some)
and exposing the way it revolves around labour, infra and particular modes of engagement
Despite that loosening, this happens mostly at the level of the interface and application and not the underlying cloud infra.
The conversation turned quickly to the ongoing cloudification of higher-education and the loss of autonomy over university IT infrastructure as a larger structural trend.
A distrust by practioners of acacademics looking in to this topic that requires different modes of engagement
https://kingsdh.net/2023/03/14/infrastructuring-alternatives/
Event description
We're looking forward to hosting Roel Roscam Abbing (Malmö University / lurk.org) for a workshop on "Infrastructuring alternatives: Mastodon, the Fediverse and beyond".

The workshop will take place on 6th April, at King's College London, Strand Campus. Further details are available below.

Infrastructuring alternatives: Mastodon, the Fediverse and beyond

When? 6th of April 2023, 1-5pm Where? Strand Campus, King's College London

After many years of inaction and, one might say, neglect on the issue of public digital infrastructures, there is a moment of opportunity in regard to social media systems. The last year saw a marked increase in interest in alternative social media, such as Mastodon, in response to the highly mediatised takeover and subsequent mismanagement of Twitter by Elon Musk. This event served as a sudden wake-up call for different communities which relied on that privatized social infrastructure to, for example, disseminate knowledge.

This workshop brings together scholars, independent researchers and media activists to consider this moment and what action might look like. The workshop introduces the question of alternative social media and how a software like Mastodon, based on its federated topology, allows for different relationships between user communities and their infrastructures. The workshop introduces the software in a hands-on way, both from use and administrative perspectives, as a way to understand what federation entails. The notion of federation was theorized as an organizational form in which local units agree to share governance to scale up organizational capacity and address larger shared issues, without giving up on local diversity and pluralism. Within alternative social media, the federation implies interoperable but separately managed entities which can set their own policy. However, as yet, they have no way of addressing issues that supersede the level of the local. The question thus posed by the workshop is how to scale and support alternative and public digital infrastructures? What approaches for doing so exist, and what can we imagine?

Due to the format of this workshop there will be a limited number of spaces for this event. If you're interested in joining please send a note to jonathan.gray@kcl.ac.uk.

This workshop is co-organised by the Centre for Digital Culture, the Digital Futures Institute and the Department of Digital Humanities, King's College London together with the Critical Infrastructure Studies collective and Centre for Digital Inquiry, University of Warwick. Image: "Fed up!" poster by Artemis Gryllaki, Bohye Woo and Lídia Pereira.